How to set up the Activity Zone?
Dec 27,2022 | LongPlus
This is a paid feature, and you need to purchase the Cloud service to use it.
🟠 Activity Zone is a cloud-based feature that encrypted analyzes the motions and interactions in the set zone using an AWS computing server. It is a feature combined with intelligent push.
🟠 How to set up the activity zone?
You can tap the camera "setting" icon->tap Activity Zone to add/edit/delete activity zones. To add an activity zone, tap + plus icon on the top right. To edit/delete an activity zone, tap the "setting" icon.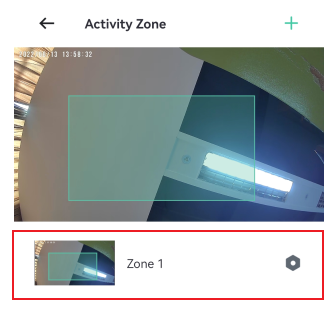 🗒️Notes:
When you set an activity zone, you will only receive notifications of motions detected in the zone. However, the camera will still record a video of the motions, no matter if it is in the set zone or not.
You can set 3 activity zones at most for each camera which can be changed and deleted after being added.
If you set an Activity Zone, please ensure that the zone you have drawn covers the entire area of interest. Sometimes, users who set incomplete Activity Zones lead to devices missing notifications.
🟠 What will happen if I set the Activity Zone?
1. If movement enters the zone, the system will push notifications and record videos.
2. You can also only receive notifications when motions are detected in the zones. Please rest assured that only unwanted notifications will be filtered, and the camera will still record the motions.
If you have any questions, please send us feedback for further assistance.
Comment